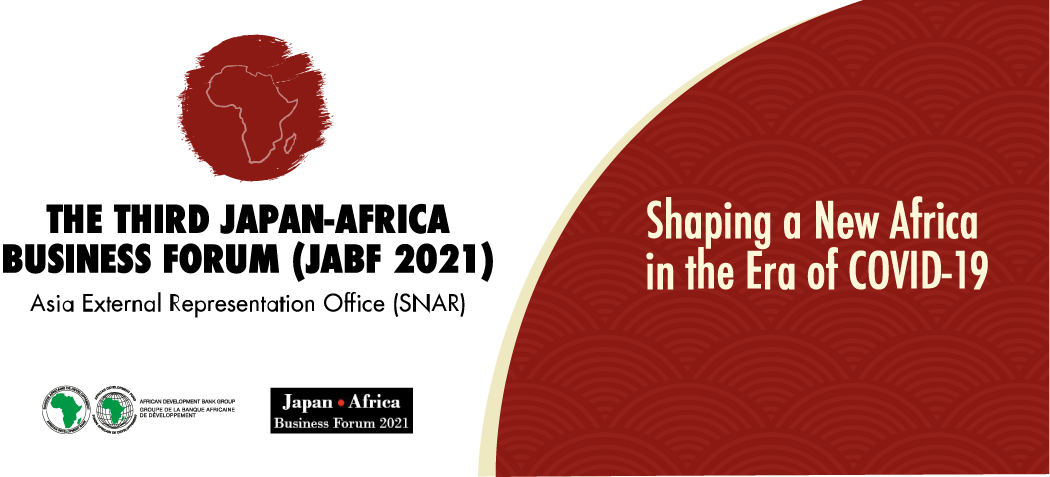 Third Japan-Africa Business Forum (JABF)
Theme: Shaping a New Africa in the Era of COVID-19
Africa, a continent of the future, full of possibilities. Business opportunities abound even in the midst of the COVID-19 pandemic in Africa, which has been experiencing dramatic economic growth in recent years. Now in its third year, the Japan-Africa Business Forum (JABF) is organized by the African Development Bank (AfDB) Asia External Representation Office in coordination with the African Diplomatic Corps (ADC) in Tokyo. The forum brings together government officials and business leaders from Africa and Japan to discuss investment and business opportunities on the continent under the theme of "Shaping a New Africa in the Era of COVID-19" and provides an opportunity for participants to find potential business partners.
Please visit the links below for details on each session.
Outline of JABF 2021
Outline of Start-up Session
Outline of Online Business Matching
Archived Videos
※Subtitles are available ( EN, FR, JP)
Day1: Openings Light up & Power Africa
Day3: Industrialize Africa
Day6: Improve the Quality of Life for the People of Africa
Photo gallery
Photos of the forum have been posted. Please proceed to this special site.
Outline of JABF 2021
Event Dates

JABF Sessions: June 29, 30 and July 1, 6, 7, 8, 2021 (6 days)
JABF Online Business Matching: June 29 to July 16, 2021 (3 weeks)

Location

Online
(Hybrid format. Only limited speakers will gather physically at the venue.)

Organizer

Asia External Representation Office (SNAR), African Development Bank
in coordination with African Diplomatic Corps (ADC) in Tokyo"

Co-Organizer

Japan External Trade Organization (JETRO), Japan International Cooperation Agency (JICA), United Nations Development Programme (UNDP), United Nations Industrial Development Organization (UNIDO)

Supporting Organizations
(no set order)

Ministry of Finance, Ministry of Internal Affairs and Communications, Ministry of Foreign Affairs, Ministry of Agriculture, Forestry and Fisheries, Ministry of Economy, Trade and Industry, Ministry of Land, Infrastructure, Transport and Tourism, Keidanren, Keizai Doyukai, Association of African Economy and Development (AFRECO), African Society of Japan, Japan Business Council for Africa, African Business Promotion Support Network (AB-NET)

Atten dance

Free

Languages

Japanese, English, French (with simultaneous interpretation)
※The presentation materials of the speakers have been uploaded. Please note that only materials that can be published are included.
Program of the Third Japan-Africa Business Forum
※Kindly note that the program is subject to change without prior notice
Day 1: June 29 (Tuesday) Opening Session, Session 1: Light up & Power Africa
07:30-07:40 (GMT) 16:30-16:40 (JST) Opening Session
07:40-07:50 (GMT) 16:40-16:50 (JST) Keynote Speech
07:50-07:55 (GMT) 16:50-16:55 (JST) Speech on TICAD8
Session 1: Light up & Power Africa
08:00-08:10 (GMT) 17:00-17:10 (JST)
Opening Remarks
08:10-09:15 (GMT) 17:10-18:15 (JST)
Panel Discussion
Panelist
Discussion, Q&A
09:15-10:00 (GMT) 18:15-19:00 (JST)
ADC Session
Opening Remarks
Presentation and Comment
Discussion
Day 2: June 30 (Wednesday) Session 2: Feed Africa
08:00-09:15 (GMT) 17:00-18:15 (JST) 
Opening Remarks
Panel Discussion
Panelist
Discussion, Q&A
09:15-10:00 (GMT) 18:15-19:00 (JST)
ADC Session
Presentation
Discussion
Day 3: July 1 (Thursday) Session 3: Industrialize Africa
08:00-09:15 (GMT) 17:00-18:15 (JST) 
Opening Remarks
Panel Discussion
Panelist
Discussion, Q&A
09:15-10:00 (GMT) 18:15-19:00 (JST)
ADC Session
Presentation and Comment
Discussion
Day 4: July 6 (Tuesday) Africa Innovates: Embracing the Power of Start-ups
08:00-09:15 (GMT) 17:00-18:30 (JST)
Startup Session organized by JETRO, JICA, UNDP, and UNIDO
Opening Remarks
Q&A
Closing
Day 5: July 7 (Wednesday) Session 5: Integrate Africa
08:00-09:15 (GMT) 17:00-18:15 (JST) 
Opening Remarks
Panel Discussion
Panelist
Discussion, Q&A
09:15-10:00 (GMT) 18:15-19:00 (JST)
ADC Session
Presentation and Comment
Discussion
Day 6: July 8 (Thursday) Session 6: Improve the Quality of Life for the People of Africa
08:00-09:15 (GMT) 17:00-18:15 (JST)
Opening Remarks
Panel Discussion
Panelist
Discussion, Q&A
09:15-10:00 (GMT) 18:15-19:00 (JST) 
ADC Session
Presentation and Comment
Discussion
Introduction of TICAD8
10:00-10:10 (GMT) 19:00-19:10 (JST)
Closing Session